Retroband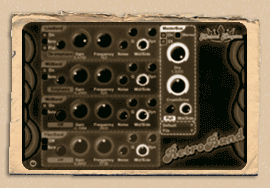 Retroband lite
Click the thumbnails for screenshots
MP3
RetroBand is first introduced on the TB-303 and the drums separately. (Music by Legend)
RetroBand-Acid.mp3
In the examples below RetroBand is first bypassed, then switched on.
RetroBand-Bass.mp3
RetroBand-Drums.mp3
RetroBand-Vocal.mp3
The next example is RetroBand virtually circuit bended into generating rain and thunder. No source audio is necessary for this.
RetroBand-ThunderAndRain.mp3
The Concept
RetroBand models several interaction aspects of gain stages and transformers. It generates IMD and crossover distortions present especially in Class A/B gain stages. RetroBand also features several forms of transient shaping.
Throw a spanner in the perfect digital engine
As opposed to sterile but perfect digital sound, IMD and cross-over distortions can sound good. They are present in most vintage gear. There are three different models in RetroBand generating distortion for a good range of sound shaping. No particular piece of equipment is simulated in any of them, but the combined flexibility can generate some of the desirable aspects of great sounding gear. It could be said RetroBand is one of the missing links to analog sound in a digital audio workstation.
The sound
RetroBand is a distortion unit at heart. It does warming, sharpening, roughing up, softening and smoothing - or all these combined. It may enrich sterile sound sources. Failing equipment can be easily simulated. With some luck it makes things sound larger than life. The transient enhanced distortion models with mid-side stereo controls can change or revive a stereo image.
Features
Digital model of interaction between gain stages and transformers
Three flexible distortion models with noise modulation
Transient shaping within the distortion models
Mid-side stereo image controls
Advanced noise modes to imprint effects of noise on signal without the hiss and rumble
64-bit signal path with highly optimised algorithms
Click here to see what's new or fixed with RetroBand v1.5.7
Requirements
A host with VST plug-in support
Windows 2000, Windows XP, Windows Vista, Windows 7 or OSX Tiger
Although there's no AU or RTAS support for RetroBand it works well with VST-to-AU and VST-to-RTAS adapters.
Download Free RetroBandLite v1.5.7 for Windows or OSX
RetroBandLite is a free cutdown version of the commercial RetroBand. There are no time or preset usage limitations, but quite many of the advanced features of the full version are missing and RetroBandLite processes everything as mono.
Download RetroBand v1.5.7 full trial for Windows or OSX
The trial of the full version of RetroBand silences audio output every 40 seconds or so. Preset saving is not limited in any way.
Purchase RetroBand
RetroBand is available for purchase now for EUR19. Click the PayPal link to order your copy.
You will receive download instructions to the email address you specify on the PayPal form. This happens within a day or two, usually on the same day you order. You don't need a PayPal account for the purchase by the way, just a credit card.